Just Try Our Distance Reiki Healing to Believe it
Reiki Healing For Anxiety
Schedule a Time That Works Best For You. You Relax For About 30 minutes at your Scheduled time. We Send You Distant Reiki Healing that works amazingly.
5 out of 5 stars (based on 5 reviews)
What is anxiety and how Reiki Heals Anxiety?
People with generalized anxiety disorder deal with excessive and unrealistic worry about everyday issues, including their family, health or financial situation. This worry is persistent and difficult to control.  Some of the specific symptoms of generalized anxiety disorder may include:

Trouble sleeping
Tense muscles
Irritability
Tiring easily
Feeling restless or on edge
Trouble concentrating
Reiki is alleged to aid relaxation, assist in the body's natural healing processes, and develop emotional, mental, and spiritual well-being.It is also said to induce deep relaxation, help people cope with difficulties, relieve emotional stress, and improve overall well being. People who receive Reiki describe it as "intensely relaxing." Receiving a reiki treatment can be a wonderful experience, putting you in touch with a happy part of yourself that you may not be aware of if you have anxiety issues. Just finding and learning about your inner healer is a good way to get on the road out of anxiety.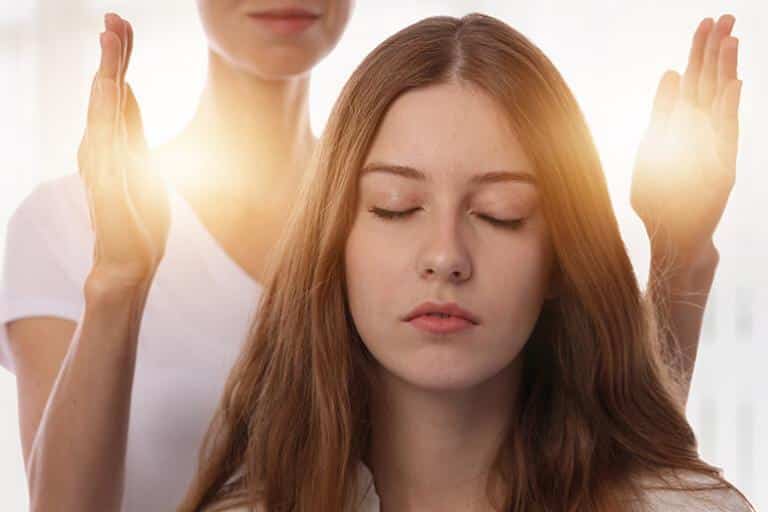 How Reiki Helps Anxiety Symptoms
Reiki is a hands on healing technique that transmits universal energy from the reiki practitioner to the individual receiving the treatment. The practitioner applies hand positions on the body which passes the energy to the reiki client. The energy enters the body and goes to wherever it is needed.
This infusion of energy results in changes to the energy body of the person receiving the treatment. All illnesses including depression show up in the energy body. They show up as blocks to the natural flow of energy. Blocks to our energy can come from repressed feelings as well as poor food, water, sleep habits, and other lifestyle problems.
They can also come from stress, anxiety as well as unprocessed grief and sadness. Think about how you feel under anxiety. You tighten up on the inside and the flow of energy in the body becomes constricted. That constriction impairs your functioning. Multiply that one stress incident by all the stress and anxiety in your life, and you have seriously blocked energy that can create illness, including mental illnesses and anxiety.
Reiki Helps You Find Your Joy
Reiki puts us back in touch with our healthy flowing energy. When we experience it, it reminds us of who we are and how we can be healthy and joyful. Reiki energy enables a new healing energy to clear out blockages. When the constriction starts to clear, we feel lighter, more relaxed and more loving toward ourselves and others.
The history of reiki is full of stories about the healing of all sorts of conditions. Some heal very quickly. Others make take multiple sessions for the new energy to take hold and clear out blockages. One of reiki's advantages it that it can be performed  from distant too. Many reiki masters perform distant reiki to heal client's blockages and heal anxiety issues effectively.
How to Schedule a Distance Reiki Healing?
After you have paid for a Distant Reiki Session, You need to book the Reiki session using filling up the form below.  We will set up a schedule for a Reiki session and will follow up with you to discuss the Distant Reiki healing Session procedure.
5 out of 5 stars (based on 5 reviews)
I Highly recommended
I have purchased about 4-5 sessions remote chakra healing sessions with him. Very healing and effective. Whether you need healing for chronic, psychological issues, or healing for your loves once/pets, this guy can help you out with it. 🙂 highly recommended
Response from
Thanks Mike. I am glad you are satisfied with my healing.
Amazing service!
Amazing service!! I could feel that my body is feeling so much better!!
Excellent healer
Excellent healer, kind and truly Human Being. Very knowledgeable and helpful. Healings are very powerful and it is worth to take them without a doubt. Highly recommend!
Response from
Thank you Smith 🙂
calm and an upsurge of peace
A smooth & seamless experience which brought me calm & an upsurge of peace. Was as if the bumpy seeds that had been sown within me, gently sprouted & softly flourished creating this peace. A wonderful, awesome, beautiful experience…
Powerful therapy
This therapy is powerful and it works well. I would recommend for most problems. Belief positivity is very important and you will achieve desired results. Thank you
Response from
Thanks hashir