This service is designed for those who are suffering from a major health concern or have experienced a serious decline in health. It is a complete evaluation of the body performed by proxy, remote session. It includes Body Code testing for structural imbalances, low-grade pathogens, nutritional imbalances, toxins, all organ and gland circuits, Trapped Emotions, and the Heart-Wall.
We will also work to determine how well your immune system is functioning, how well your brain may be communicating with your organs and glands, and how well your heart might be communicating with the rest of your body. Includes a complete written report of findings and recommendations for future steps. This is the same evaluation used by Dr. Nelson Founder of Body Code Healing System for many years in practice as he worked with people suffering from mysterious and "incurable" illnesses.
What does Body Code Evaluation Report Consist of?
A Body Code Initial Evaluation Consultation consists of determining how well the body is functioning. What this entails is using muscle testing to scan the functions of the following:
Checking your Immune System to give you a percentage of how well it is functioning
Check the percentage of brain messages reaching organs and glands, which could mean a spinal misalignment
Checking the percentage of heart messages reaching body tissues, which could indicate a Heart-wall.
Determine Pathogens, i.e. viral, bacteria, fungal, mold, and parasites, as well as toxins, i.e. general toxicities and toxicities of Heavy Metals
Check for any 'unhappy' or imbalanced organs and glands.
You can see the sample of the Body Code evaluation report below.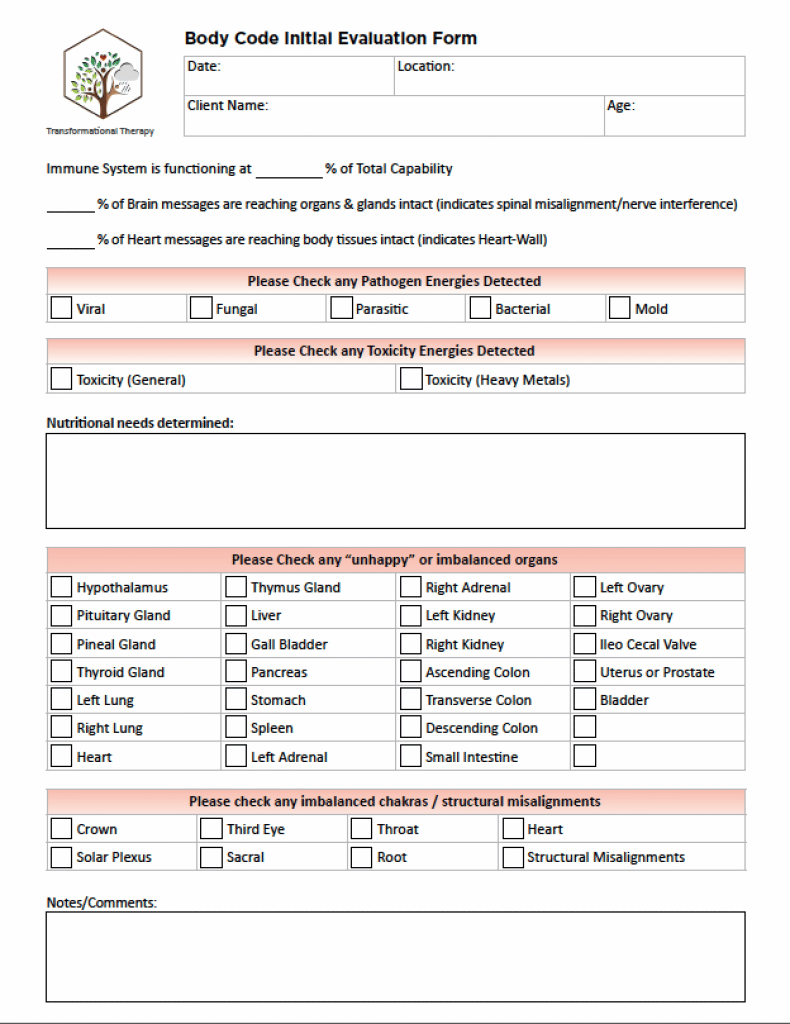 This information will then be forwarded to you through e-mail. This is a 30-minute remote session and does NOT include any releasing or correction of imbalances.
What We Will Need from You:
• Name of the person
• Date of birth
• picture ( Optional)
How To Book a Session?
After you have paid for a  Session, You need to book the session using filling up the form below. We will do Body Code Evaluation and send you the report of findings via email within 24 hours.
We are happy to answer your questions. Email us at info@reikihealingdistance.com or fill up the form below and we will be in touch with you as soon as possible.
Verified User Reviews

5 out of 5 stars (based on 477 reviews)
Submit Your Review
 Recent Reviews

thank you so much

Fantastic. Felt better almost instantly. very grateful! thank you so much

Thank you very much for your curse removal sessions

Thank you very much for your curse removal sessions things have been flowing much better. I've tried other things and nothing was quit being things to flow with your reading on what I needed and the service I received things are finally starting to calm down and flow better in finances and relationships.

Wonderful

Wonderful. Fast communication, nice report at the end, good information. Thank you

Thank you.

Thank you. You are amazing!

He is truly a gift of Spiritual Healing

Umer, truly has the gift of Spiritual Healing received from the Almighty God and I thank the Most High for the skills, abilities, and knowledge of healing!